Chip Shop Curry Cashew Butter 6 x 280g
About This Product
Two Nods Chip Shop Curry Cashew Butter - a straight nostalgia hit. Case of 6 x 280g.
Sweet smooth cashew butter with our curry sauce mix throughout


Use it as a base for a curry, in a cheese toastie, or turn it into a sauce for your chips!

Savoury savoury savoury, that's the name of the game here



Jason also prints the CO2e/kg value on each jar, as a way to be transparent about what they create and pollute, providing a rally against greenwashing

Packaged in plastic free recyclable glass jars
Product Info
Ingredients: Cashews, vegetable stock (contains soya), onion powder, coriander, turmeric, fenugreek, chilli, garlic, ginger, paprika, citric acid, cumin, fennel, black pepper, mustard, cardamom, rapeseed oil, salt
Storage: Ambient
Product Claims:  vegan, vegetarian, no nasties, handmade, plastic free
Made In: London
About The Brand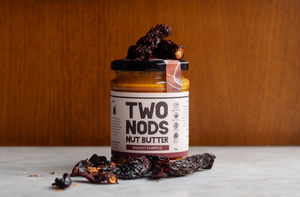 Two Nods: Handmade Nut Butter
Two Nods are a nut butter producer focused on sustainability, as well as innovative sweet and savoury flavours! Jason is out here to provide some variety in the nut butter world - showing it's not just something to put on toast but makes a great ingredient for cooking, baking, smoothies, or whatever the heart desires!