No 4 Tortiglioni 10 x 500g
About This Product

100% British Premium Quality Pasta in Sustainable Paper Packaging. Case of 10 x 500g.
Similar to Rigatoni, but with more pronounced grooves that actually swirl their way around the pasta. Hence their name, which stems from the Latin 'torquere', meaning 'to turn'
Perfect with simple sauces, zesty salads and fish dishes. Big, bold and mighty in appearance, texture and taste
Naturally dried pasta means these keep well without stabilisers or preservatives.  Suitable for vegans and vegetarians
This product is also available in bulk bags of 5kg.  Please email team@mahalosupplies.com for further information.
Product Info

Ingredients: Wheat flour with vitamins and minerals (calcium carbonate, iron, niacin (B3), thiamin (B1)).
Storage: Ambient
Made In: Yorkshire, UK
About The Brand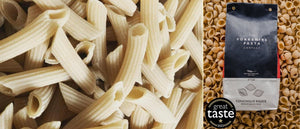 The Yorkshire Pasta Company
Before taking a leap of faith to pursue her dreams, Kathryn from Yorkshire Pasta Company noticed there was no British pasta being made in Yorkshire.  With an ambition to develop, produce and sell premium quality pasta, their team sources the finest ingredients, have fine-tuned their recipes, and have built production from scratch. Yorkshire Pasta has spent hours studying high-quality pasta from Italian producers and incorporate those techniques into their homemade pasta made with locally milled wheat flour.