About This Product
Sansu's Yuzu and Cucumber Soda. Case of 12 x 250ml.
Sparkling water from the rolling hills of the Cotswolds infused with raw yuzu juice 
Refined yuzu combined with the freshness of summery cucumber
Contains a whopping 8% raw yuzu juice
Gently sweetened for the body without the cloying after taste
Can be enjoyed chilled, neat, or as a swanky, fun cocktail mixer 
This product is subject to 20% VAT
Product Info
Ingredients: Carbonated water, Yuzu juice 8%, Sugar, Yuzu extract, Cucumber extract 0.2%
Storage: Ambient
Product Claims: vegan, vegetarian, natural, gluten-free, caffeine-free, plastic-free, dairy-free, nut-free, soy-free, no nasties, palm oil-free, refined sugar-free, caffeine-free, ethically sourced, sustainably sourced, recyclable packaging, salsa accredited
Made In: Islington, London
About The Brand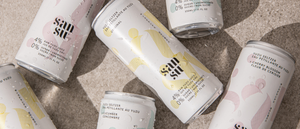 Sansu: Raw Yuzu Drinks
Saehwan, from Jeolla-namdo Province in Korea, has fond memories of growing up around yuzu.
 Never using lime or lemons, these drinks contain an extremely high concentration of pure yuzu juice. Yuzu is also a major source of two particular flavonoids shown to reduce skin inflammation and promote a healthy immune system.